Trans. Nonferrous Met. Soc. China 29(2019) 437-447
Grain refinement and mechanical properties of pure aluminum processed by accumulative extrusion bonding
Xiang CHEN1,2, Guang-sheng HUANG1,2, Shuai-shuai LIU1,2, Ting-zhuang HAN1,2, Bin JIANG1,2, Ai-tao TANG1,2, Yun-tian ZHU3, Fu-sheng PAN1,2
1. State Key Laboratory of Mechanical Transmission, College of Materials Science and Engineering, Chongqing University, Chongqing 400044, China;
2. National Engineering Research Center for Magnesium Alloys, Chongqing University, Chongqing 400044, China;
3. Department of Materials Science and Engineering, North Carolina State University, Raleigh, NC 27695, USA
Received 1 March 2018; accepted 6 July 2018
Abstract: Ultrafine-grained aluminum processed by a new severe plastic deformation technique, accumulative extrusion bonding (AEB), was investigated. Microstructural characterization indicated good interfacial bonding and an average grain size of ~440 nm was obtained after six passes. Tensile testing revealed that the strength reached the maximum value of 195 MPa and the total elongation exceeded 16% after five passes. The hardness was also significantly improved and almost reached saturation after the first pass. SEM fractography of AEB-processed specimens after tensile test showed that failure mode was shear ductile fracture with elongated shallow dimples. Comparison with conventional accumulative roll bonding indicates that this new AEB technique is more effective in refining grain and improving mechanical properties of the specimens.
Key words: aluminum; accumulative extrusion bonding; microstructure; mechanical properties; strain hardening rate
1 Introduction
Aluminum and its alloys as lightweight structural materials have attracted considerable attention in aerospace and automobile industries due to their low density and high specific strength [1]. However, the low strength limits their utilization. Strengthening aluminum and its alloys can broaden their engineering applications. Considering different strengthening mechanisms, fine-grained strengthening has aroused a great deal of interest because it can improve both strength and ductility at the same time. Fine grain materials, especially ultrafine-grained (UFG) materials with a grain size of 0.1-1 μm, have become a research hotspot. These materials can be obtained through severe plastic deformation (SPD).
Currently, various SPD processes such as high pressure torsion (HPT) [2], constrained groove pressing (CGP) [3], multi-directional forging (MDF) [4], equal channel angular pressing (ECAP) [5], accumulative back extrusion (ABE) [6], accumulative roll bonding (ARB) [7], have been proposed for fabricating UFG materials. Among these processes, ARB, invented by TSUJI et al [8], has been considered as an effective method to fabricate UFG laminates. The ARB process was firstly carried out on commercial pure aluminum. Two pieces of the same metal are bonded during rolling, and the ARB-processed samples are subsequently cut, stacked and roll-bonded again. This process can be repeated limitlessly. Consequently, ultrahigh strain can be achieved with increasing number of passes. As a continuous processing technology, it is suitable for the fabrication of metal plates on industrial scale. Although this technology has great advantages in the preparation of the multilayer plates, there are some defects, that is, the rolling process will inevitably produce edge cracks, resulting in material loss, and 50% deformation is difficult to ensure the bonding quality of the interface. A good bond strength for most metals reaches more than 70% deformation during cold roll bonding [9].
Compared with rolling, metal in extrusion is subjected to high hydrostatic stress and large plastic strain, which effectively promotes interface bonding. In view of this, we developed a new accumulative extrusion bonding (AEB) method based on extrusion processing. This new process has been successfully used in fabricating multilayer magnesium alloys without generating edge cracks [10]. Compared with traditional ARB technique, some advantages of this technology include: (1) it can be carried out at low temperature, which reduces the processing cost and time; (2) 90% reduction rate per pass is beneficial to grain refinement; (3) it can also provide a feasible method for mass production of multilayer laminates. The AEB is a type of SPD method because the extrusion can be performed repeatedly. With increasing number of AEB passes, severe plastic strain can be accumulated in the sample, thereby creating extreme grain refinement. In the current work, in order to refine grain size and improve mechanical properties, AA1060 pure aluminum multilayer plates were processed by AEB. The principle of AEB process was simply described, and the deformed microstructure and mechanical properties were studied in detail.
2 Experimental
2.1 Materials
Rolling annealed commercial AA1060 sheets (99.6 wt.%) were used as the starting material. The sheets were cut into strips with dimensions of 35 mm × 15 mm × 1.5 mm (RD × TD × ND), where RD, TD and ND represent the rolling, transverse and normal directions, respectively.
2.2 AEB processing
Table 1 Processing parameters of samples deformed to large strain via AEB (Ten strips with thickness of 1.5 mm were extruded by reduction ratio of 90%)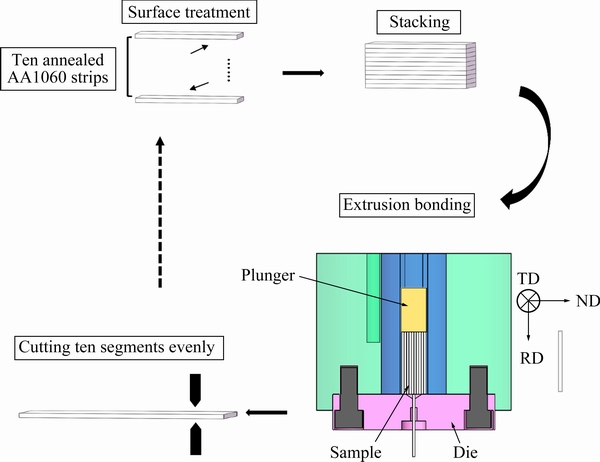 Fig. 1 Schematic illustration showing principle of accumulative extrusion bonding process
Table 1 lists the processing parameters for samples deformed to the large plastic strains via AEB. Here, ten strips were stacked and then extruded. The schematic of the AEB process is displayed in Fig. 1. In order to improve bonding, the surface of the ten annealed strips was degreased and wire brushed before stacking. The treated ten strips were then stacked together, placed in the extrusion set-up, and then heated at 80 °C for 5 min to boost the diffusion bonding between interfaces. Graphite powder was used as lubricant to reduce friction between the die and sample. The strips were extrusion-bonding with a reduction rate of 90%. Extruded aluminum strips were air-cooled, and the above process was repeated for following passes. The same procedure was repeated up to six passes. The final dimensions of AEB-processed sheet were 14.96 and 1.47 mm for TD and ND, respectively. The extrusion speed was ~6 mm/s, and the extrusion ratio was ~12.8. During AEB processing, the true strain (e) can be calculated using the following equation: