EGCG+E

EGCG-E
ECG+E

ECG-E
GCG+E

GCG-E
but the size and the number of hydroxyl in EGCG, GCG and ECG are different (Fig.2), the steric hindrance and the cooperative non-covalent interaction such as hydrogen bonding, inclusion effect, π-π interaction and van der Waals interactions between extractant and ester catechins monomer are different. That is to say, the stability of the supramolecular compounds are different in the lipophilic organic phase, which can be represented by the free energies of partitioning, -Δ(ΔG). It can be deduced by
-Δ(ΔG)=-ΔGⅡ-(-ΔGⅠ)=RTlnKⅡ-RTlnK=RTln(KⅡ/K)=RTlnα
Only if -Δ(ΔG) is not equal to 0, that is to say, α>1, the ester catechins monomer can be separated by extraction combined with hollow fiber membrane[17-18].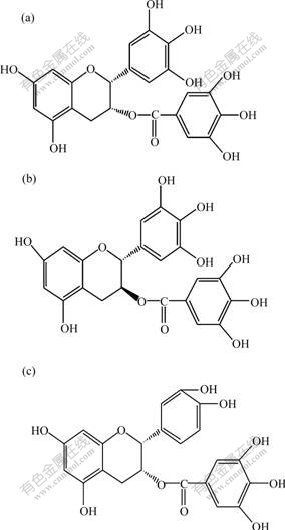 Fig.2 Molecular structures and abbreviations of ester catechins monomer
(a) EGCG (Epigallocathchin gallate); (b) GCG (Gallocatechin gallate); (c) ECG (Epicatechin gallate)
3.2.2 Effect of different extractants on K and α
The extraction performance of various extractants for ester catechins monomer is listed in Table 3. Here, the concentration of tert-butylcalix[6]arene, tert- butylcalix[8]arene and octeacetate of tert-butylcalix [8]arene were 2.4 mmol/L in the organic phase, while the concentration of tert-butylphenol was 19.2 mmol/L, in order to provide the same number of hydroxyl. The tert-butylcalix[8]arene is of the highest extractability among the host molecules tested, because the cavity size of the tert-butylcalix[8]arene fits the size of the target molecule. The cavity size of tert-butylcalix[6]arene is too small to include the guest molecule. The results indicate that the macrocyclic size of calixarenes is the one factor that results in their exceptional performance to extract compounds. The hydrogen bonding also plays an important role in the extraction performance of ester catechins. It can be seen from Table 3 that tert- butylphenol can extract ester catechins monomer, but octeacetate of tert-butylcalix[8]arene shows lower extraction abilities for ester catechins monomer because the ability of forming hydrogen bonding with ester catechins monomer declines. These results mean that hydroxyl in the lower rim is essential for creation of a high affinity to the target ester catechins monomer. So it can be concluded that the important factors influencing the extraction properties of calixarene are its cavity size and hydrogen bonding.
Table 3 Effects of different extractants on K, α and -Δ(ΔG)

3.2.3 Effect of concentration of tert-butylcalix[8]arene on K and α
Since tert-butylcalix[8]arene can form three inclusion complexes with ester catechins monomer, it is important to investigate the influence of concentration of tert-butylcalix[8]arene on K and α (Figs.3 and 4). With the increase of the concentration of tert-butylcalix[8]- arene, the reaction equilibrium can be moved to the right, and more and more supramolecular compounds form. But the stabilities of three supramolecular compounds are different, the increases of the partition coefficient K are different. And it can be seen from Figs.3 and 4 that KGCG is always larger than KECG,KECG is always larger than KEGCG, which indicates that the cavity size of tert-butylcalix[8]arene fits the size of the target molecule GCG more, and forms a more stable complex with GCG than with EGCG or ECG.
3.2.4 Effect of extraction temperature on K and α
Tert-butylcalix[8]arene can form three supra- molecular compounds with ester catechins monomer by the cooperative non-covalent interaction such as hindrance hydrogen bonding, inclusion effect, π-π interaction, van der Waals and the steric hindrance,